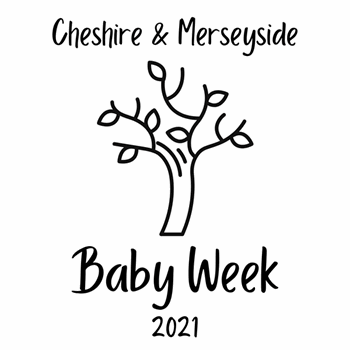 Cheshire & Merseyside
Baby Week 2021
15-19 November 
The Guide
#BabyWeekCM21
A collaborative platform brought to you by the Cheshire and Merseyside Women and Children's Partnership.
Designed to
Share
Engage
Entertain and
Inform.
Baby Week brings together cross-sector organisations, families and caregivers to promote the importance of giving babies the best possible start in life.
It's a great opportunity for organisations working with babies and their families and caregivers to come together and learn from each other (includes preconception, pregnancy and beyond); and try out activity that feeds curiosity.
It's a chance to be the first to learn about the latest research, policy and practice development in early childhood development.
It is also a platform for you to showcase your work and the services you provide and extend your reach.
The guide to this years Baby Week.
Monday 15 Launch of Maternity Support Worker Week
Tuesday 16 International Day of Tolerance
Wednesday 17 World Prematurity Day
Thursday 18 Use Less Stuff Day & Children In Need
Friday 19 World Toilet Day
Saturday 20 & Sunday 21 Universal Children's Day, World Hello Day & World TV Day
If you would like to know more checkout Baby Week Cheshire and Merseyside 15-21 November on the Improving Me website.
Get involved!
To find out more information or to get involved with the week, please email Jo at info@improvingme.org.uk. 
Follow us on social media Twitter and Facebook.
Follow our event hashtag:#BabyWeekCM21